Welcome To The Bishop Gold Group
Bishop Gold Group is emerging as a leader in the gold and precious metals market in the United States.
Our passion for precious metals stems from the belief in their ability to diversify savings during economic uncertainty. With decades of combined experience, our goal is to assist clients in making informed decisions regarding precious metals and optimizing their strategies with a client-first mentality for their benefit.
Our Clients Are Our Focus
We have a client-first mentality.
When you work with us, you become a part of our team. Whether we discuss precious metals or talk about the economy, you will always have our undivided attention.
We have a client-first mentality.
Whether you seek to purchase precious metal coins or bars, or you are looking to save for retirement, we have you covered. Click on any of the following products and services we offer to learn more.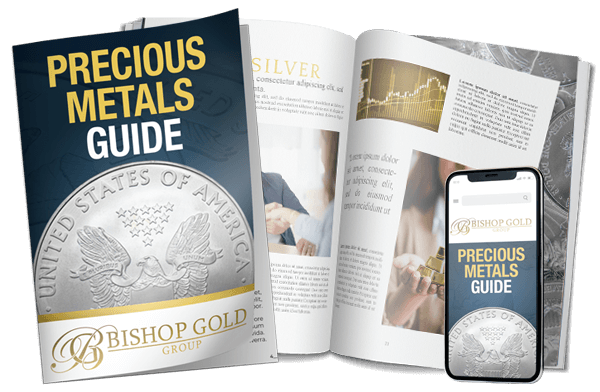 Learn How To Take Physical Control of Your Saving with this FREE GUIDE
Why Invest With Bishop Gold Group?
We put our clients first and do everything we can to maximize your earnings and save for retirement in a profitable manner.
We possess and prioritize the following as we work with our clients:
Expert Knowledge of Precious Metals:  With decades of experience, our expert staff possesses in-depth knowledge of the gold and silver markets, empowering us to aid clients in achieving success with precious metals, regardless of their situation.
Personalized Client Plans: We recognize that each client's precious metals goals and requirements are unique, and we tailor their strategy accordingly to reflect their specific situation.
Client-First Mentality: We are passionate about helping you succeed. We operate with a client-first mentality and strive to provide the best customer service possible.
Get started with your precious metals IRA today! Call us at 833-488-8500 to speak with us or fill out the form below.
To learn more about buying or investing in precious metals, or if you would just like to talk about the field, please reach out to us any time.