THIS DOCUMENT CONTAINS VERY IMPORTANT INFORMATION REGARDING YOUR RIGHTS AND OBLIGATIONS, AS WELL AS CONDITIONS, LIMITATIONS, AND EXCLUSIONS THAT MIGHT APPLY TO YOU. PLEASE READ IT CAREFULLY. 
THESE TERMS REQUIRE THE USE OF ARBITRATION ON AN INDIVIDUAL BASIS TO RESOLVE DISPUTES, RATHER THAN JURY TRIALS OR CLASS ACTIONS. 
BY PLACING AN ORDER FOR PRODUCTS INVOLVING PRECIOUS METELS, YOU AFFIRM THAT YOU ARE OF LEGAL AGE TO ENTER INTO THIS AGREEMENT, AND YOU ACCEPT AND ARE BOUND BY THE TERMS AND CONDITIONS HEREIN. YOU AFFIRM THAT IF YOU PLACE AN ORDER ON BEHALF OF AN ORGANIZATION OR COMPANY, YOU HAVE THE LEGAL AUTHORITY TO BIND ANY SUCH ORGANIZATION OR COMPANY TO THESE TERMS AND CONDITIONS AND THIS AGREEMENT. 
Bishop Gold Group and its affiliates, subsidiaries, and parent companies ("BGG" or "Company") and Customer (collectively, the "Parties") agree that the terms set forth in this Agreement shall govern all transactions between the Parties involving precious metals in any form or quantity, unless and until such time as it is amended or terminated pursuant to its terms.
Payment. Customer shall pay all invoiced amounts due to Company within five (5) days from the date of Company's invoice. Customer's failure to pay all amounts invoiced by Company shall constitute a material breach of this Agreement and entitle Company to damages and fees as provided herein. Customer's failure to timely pay all amounts invoiced shall be subject to a liquidation fee.
Delivery of Precious Metals for Non-IRA Transactions. Company shall cause all precious metals and goods purchased to be delivered to Customer's address, no later than twenty-eight (28) days after Customer has paid all invoices and verified that the purchase funds are backed by good funds. Company shall deliver precious metals and goods to Customer using Company's standard methods for packaging and shipping such goods. Company may, in its sole discretion, without liability or penalty, make partial shipments to Customer, provided that all precious metals and goods are delivered to Customer, within the timeframe herein. Each shipment will constitute a separate sale, and Buyer shall pay for the units shipped whether such shipment is in whole or partial fulfillment of the quantity purchased under this Agreement.
Disclosures re: Purchase Price. The purchase price Customer has agreed to pay Company includes Company's profit margin and/or fees on the transaction. The price that Customer pays therefore is higher than the price paid when Company acquires the metals for retail sale to Customer. Within the precious metals industry, the difference between Company's cost for the precious metals or goods purchased and the retail price quoted to Customer is known as the "Spread." For Customer to make any profit, Customer's precious metals must appreciate enough to surpass the cost of the Spread that Customer paid to Company.
At the time that this Agreement was transmitted for Customer's signature, (i) Company's Spread on Bullion was generally between 2 and 10 percent and (ii) Company's Spread on semi-Numismatic and Numismatic coins and bars was generally between 33 percent and 66 percent. These numbers, however, are only approximations, and are subject to change.
Company hereby discloses, and Customer acknowledges, that Company's classification of precious metals is based on Company's own classification standards and decision-making. Customer expressly acknowledges that Customer understands that other sellers may classify the same item differently for pricing purposes.
Individual Retirement Account ("IRA") transactions are more expensive to process and may require Company to assume a higher investment risk in connection with the transaction, due to the additional time required to process transactions. Therefore, at the time this Agreement was transmitted for Customer's signature, Company's Spread on IRA transactions was generally between 33 percent and 66 percent. These numbers, however, are only approximations and the actual Spread is subject to change.
Re-Purchases. The law prohibits Company from guaranteeing that it will repurchase precious metals that Company sells. Company hereby discloses, and Customer hereby acknowledges, that Company does not guarantee that it will repurchase any precious metals from Customer. In the event that Company makes a repurchase offer, the offer is subject to change and may be raised or lowered at Company's discretion.
Disclosures Re: Investment Advice. Company purchases and sells precious metals and goods. Company is not an investment advisor, financial advisor, or retirement account fiduciary. Company does not provide legal and/or tax advice, retirement planning. Company will not provide any financial advice to Customer. Customer acknowledges that Company's classification of precious metals, determinations regarding the price of precious metals, and Company's statements to Customer in connection with any transaction hereunder does not constitute, and shall not be construed as, financial advice, legal advice, or tax advice. Company's sales representatives are commissioned sales persons, meaning that their compensation is tied to the amount and profit margin of the precious metals they sell.
The decisions involved in Customer's purchase or sale of precious metals are the Customer's decision alone and Customer acknowledges that the decisions were made subject to Customer's own research and judgment. Customer understands and acknowledges that precious metals may appreciate, depreciate, or retain their value over time depending on many factors that cannot be controlled by Customer or Company. Customer also understands and acknowledges that precious metals cannot yield income and do not pay dividends.
Company has not, and cannot, make any guarantee or representations that the precious metals that Customer sells or acquires will appreciate or depreciate during any period of time. Any written or oral statements by Company, its officers, employees, agents, representatives, or anyone acting on its behalf relating to future events or the attributes of precious metals are opinions only and are not statements of fact. Customer acknowledges that Customer did not rely on any opinions of Company, its officers, employees, agents, representatives, or anyone acting on Company's behalf, when deciding to purchase or sell precious metals.
Disclosures re: Grading. Company is not a grading service, but relies upon the opinions and assessments of independent grading services such as Professional Coin Grading Service, Inc., Numismatic Guaranty Corporation of America, and ANACAS. Grading is a subjective process, and Company does not guarantee that the graded precious metals it sells will achieve the same grades in the future. Company, however, warrants that the precious metals it sells are not counterfeit.
Relationship of the Parties . Nothing contained in this Agreement shall be construed as creating any agency, partnership, franchise, business opportunity, joint venture or other form of joint enterprise, employment or fiduciary relationship between the parties, and neither party shall have authority to contract for or bind the other party in any manner whatsoever. No relationship of exclusivity shall be construed from this Agreement.
No Setoff . Customer shall not, and acknowledges that it will have no right, under this Agreement, any other agreement, document or law, to withhold, offset, recoup or debit any amounts owed (or to become due and owing ) to Company or any of its affiliates, whether under this Agreement or otherwise, against any other amount owed (or to become due and owing) to it by Company or its affiliates, whether relating to Company's or its affiliates' breach or non-performance of this Agreement or any other agreement between Customer or any of its affiliates, and Company or any of its affiliates, or otherwise.
Disclaimer of Warranty. EXCEPT FOR THE WARRANTY SET FORTH HEREIN, COMPANY MAKES NO WARRANTY WHATSOEVER WITH RESPECT TO GOODS AND PRECIOUS METALS SOLD TO CUSTOMER, INCLUDING ANY WARRANTY OF MERCHANTABILITY; WARRANTY OF FITNESS FOR A PARTICULAR PURPOSE; WHETHER EXPRESS OR IMPLIED BY LAW, COURSE OF DEALING, COURSE OF PERFORMANCE, USAGE OF TRADE OR OTHERWISE. 
Limitation of Liability . IN NO EVENT SHALL COMPANY BE LIABLE FOR ANY CONSEQUENTIAL, INDIRECT, INCIDENTAL, SPECIAL, EXEMPLARY, PUNITIVE, OR ENHANCED DAMAGES, LOST PROFITS OR REVENUES OR DIMINUTION IN VALUE, ARISING OUT OF, OR RELATING TO, OR IN CONNECTION WITH ANY BREACH OF THIS AGREEMENT, REGARDLESS OF (A) WHETHER SUCH DAMAGES WERE FORESEEABLE, (B) WHETHER OR NOT SELLER WAS ADVISED OF THE POSSIBILITY OF SUCH DAMAGES, (C) THE LEGAL OR EQUITABLE THEORY (CONTRACT, TORT OR OTHERWISE) UPON WHICH THE CLAIM IS BASED, AND (D) THE FAILURE OF ANY AGREED OR OTHER REMEDY OF ITS ESSENTIAL PURPOSE. 
Dispute Resolution and Binding Arbitration . CUSTOMER AND COMPANY ARE AGREEING TO GIVE UP ANY RIGHTS TO LITIGATE CLAIMS IN A COURT OR BEFORE A JURY, OR TO PARTICIPATE IN A CLASS ACTION OR REPRESENTATIVE ACTION WITH RESPECT TO A CLAIM ARISING FROM OR RELATED TO THIS AGREEMENT. OTHER RIGHTS THAT EITHER PARTY WOULD HAVE IF EITHER PARTY WENT TO COURT MAY ALSO BE UNAVAILABLE OR MAY BE LIMITED IN ARBITRATION. 
ANY CLAIM, DISPUTE OR CONTROVERSY (WHETHER IN CONTRACT, TORT OR OTHERWISE, WHETHER PRE-EXISTING, PRESENT OR FUTURE, AND INCLUDING STATUTORY, CONSUMER PROTECTION, COMMON LAW, INTENTIONAL TORT, INJUNCTIVE AND EQUITABLE CLAIMS) BETWEEN CUSTOMER AND COMPANY ARISING FROM OR RELATING IN ANY WAY TO THIS AGREEMENT WILL BE RESOLVED EXCLUSIVELY AND FINALLY BY BINDING ARBITRATION TO BE CONDUCTED IN THE COUNTY OF LOS ANGELES, CALIFORNIA. 
The arbitration will be administered by the American Arbitration Association (" AAA ") in accordance with the Commercial Arbitration Rules (the " AAA Rules ") then in effect, except as modified by this Section 12. (The AAA Rules are available at www.adr.org/arb_med or by calling the AAA at 1-800-778-7879.) The Federal Arbitration Act will govern the interpretation and enforcement of this section.
The arbitrator will have exclusive authority to resolve any dispute relating to arbitrability and/or enforceability of this arbitration provision, including any unconscionability challenge or any other challenge that the arbitration provision or the agreement is void, voidable, or otherwise invalid. The arbitrator will be empowered to grant whatever relief would be available in court under law or in equity. Any award of the arbitrator(s) will be final and binding on each of the parties, and may be entered as a judgment in any court of competent jurisdiction.
Customer agrees to an arbitration on an individual basis. In any dispute, NEITHER PARTY WILL BE ENTITLED TO JOIN OR CONSOLIDATE CLAIMS BY OR AGAINST OTHER CUSTOMERS IN COURT OR IN ARBITRATION OR OTHERWISE PARTICIPATE IN ANY CLAIM AS A CLASS REPRESENTATIVE, CLASS MEMBER OR IN A PRIVATE ATTORNEY GENERAL CAPACITY . The arbitral tribunal may not consolidate more than one person's claims, and may not otherwise preside over any form of a representative or class proceeding. The arbitral tribunal has no power to consider the enforceability of this class arbitration waiver and any challenge to the class arbitration waiver may only be raised in a court of competent jurisdiction.
If any provision of this arbitration agreement is found unenforceable, the unenforceable provision will be severed and the remaining arbitration terms will be enforced.
Choice of Law . This Agreement, including all exhibits, schedules, attachments and appendices attached to this Agreement and thereto, and all matters arising out of or relating to this Agreement, are governed by, and construed in accordance with, the laws of the State of California, United States of America, without regard to the conflict of laws provisions thereof to the extent such principles or rules would require or permit the application of the laws of any jurisdiction other than those of the State of California.
Notices . All notices, requests, consents, claims, demands, waivers and other communications under this Agreement must be in writing and addressed to the other Party at its address set forth herein (or to such other address that the receiving Party may designate from time to time in accordance with this Section). Unless otherwise agreed herein, all notices must be delivered by personal delivery, nationally recognized overnight courier or certified or registered mail (in each case, return receipt requested, postage prepaid). Except as otherwise provided in this Agreement, a notice is effective only (a) on receipt by the receiving Party, and (b) if the Party giving the Notice has complied with the requirements of this Section.
Notice to Company: Attn: Chief Operating Officer; 1801 Century Park East, 24 th
Floor, Los Angeles, California 90067
Entire Agreement . This Agreement, including and together with any related exhibits, schedules, attachments, and appendices, constitutes the sole and entire agreement of the Parties with respect to the subject matter contained herein and supersedes all prior and contemporaneous understandings, agreements, representations and warranties, both written and oral, regarding such subject matter.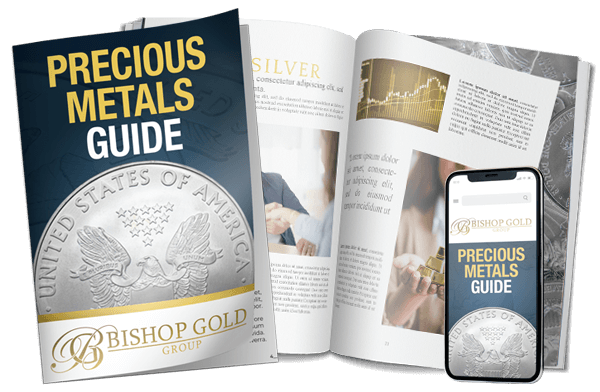 Learn How To Take Physical Control of Your Saving with this FREE GUIDE
To learn more about buying or investing in precious metals, or if you would just like to talk about the field, please reach out to us any time.