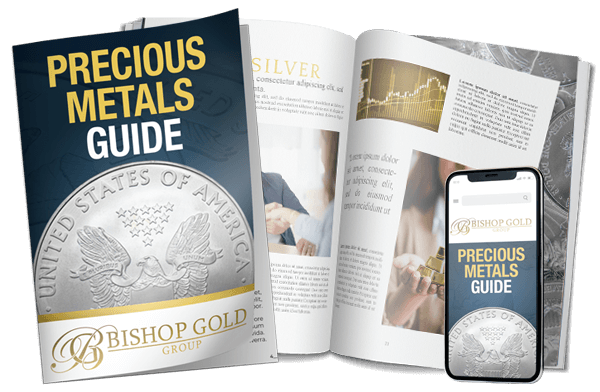 Learn How To Take Physical Control of Your Saving with this FREE GUIDE
Why Invest With Bishop Gold Group?
At Bishop Gold Group, we put our clients first and do everything we can to maximize your earnings and save for retirement in a safe and profitable manner.
We possess and prioritize the following as we work with our clients:
Expert Knowledge of Precious Metals: Our decades of combined experience gives our staff the knowledge they need to help you invest in precious metals, regardless of your situation. Simply put, we are experts in the gold and silver markets and we are here to help you succeed.
Decades of Experience: In addition to our in-depth knowledge of the industry, we possess decades of experience helping clients earn more by investing in precious metals. Please visit our "Testimonials" page to learn about our experience helping clients succeed. Moreover, our experience has allowed us to build strong relationships with the best depositories and other crucial partners in the field.
Personalized Investment Plans: We understand that each client has unique precious metals investment wants and needs. So, we work with you to customize your precious metals investment strategy based on your specific situation.
Excellent Communication: Communication is key for anything in business. At Bishop Gold Group, we prioritize excellent client communication so you fully understand your precious metals investments and can ask the right questions and receive all the answers you need. We are also available to assist you and help you manage your savings.
Client-First Mentality: We are passionate about helping you succeed. We operate with a client-first mentality and strive to provide the best customer service possible.
Get started with your precious metals IRA today! Call us at 833-488-8500 to speak with us or fill out the form below.
To learn more about buying or investing in precious metals, or if you would just like to talk about the field, please reach out to us any time.