At Bishop Gold Group, we strive to educate our clients about the gold market because we believe our clients should be as informed as possible about current and historical trends in the precious metal market.
Investing in gold and other precious metals has numerous benefits, but regardless of your reason for investing, you should be up-to-date on current trends. See below for information on both live and historical gold prices. Click either category below to open up more information about the topic. To learn more from a precious metals expert, please contact us any time.
See above for a live feed of gold prices. If you have any questions about what the prices mean, please contact us and we will be happy to advise you.
At Bishop Gold Group, we've been in the gold business for years and have gained a tremendous level of expertise in the field. If you would like to learn about the historical prices of gold and what this means for investing in gold in the future, please do not hesitate to reach out.
The following is a graph that shows the increasing value of gold over the past 70 years. As you can see, while the price fluctuates at times, it has seen an overall sharp upward trend.
In fact, the price of gold per ounce in December of 1972 was $63.78, which adjusted for inflation is $399 in 2020. The price of gold per ounce in January of 2020 was $1,834. This means that after adjusting for inflation, the price of gold has increased more than 4.5-fold in the past 48 years.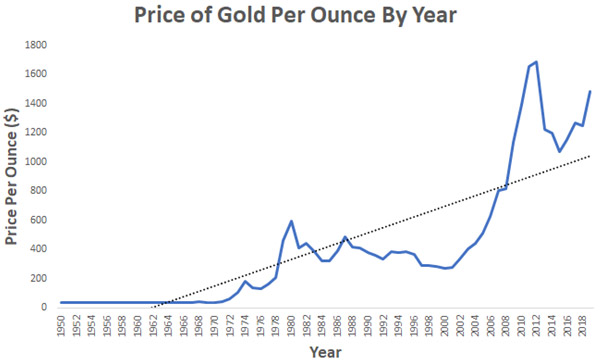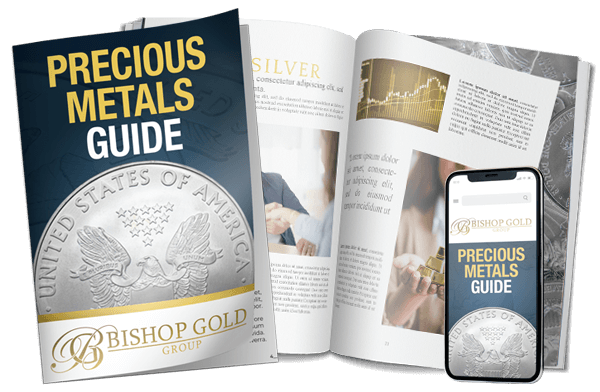 Learn How To Take Physical Control of Your Saving with this FREE GUIDE
To learn more about buying or investing in precious metals, or if you would just like to talk about the field, please reach out to us any time.